REBIRTH – A Sacred Circle for Awakening the Mother Goddess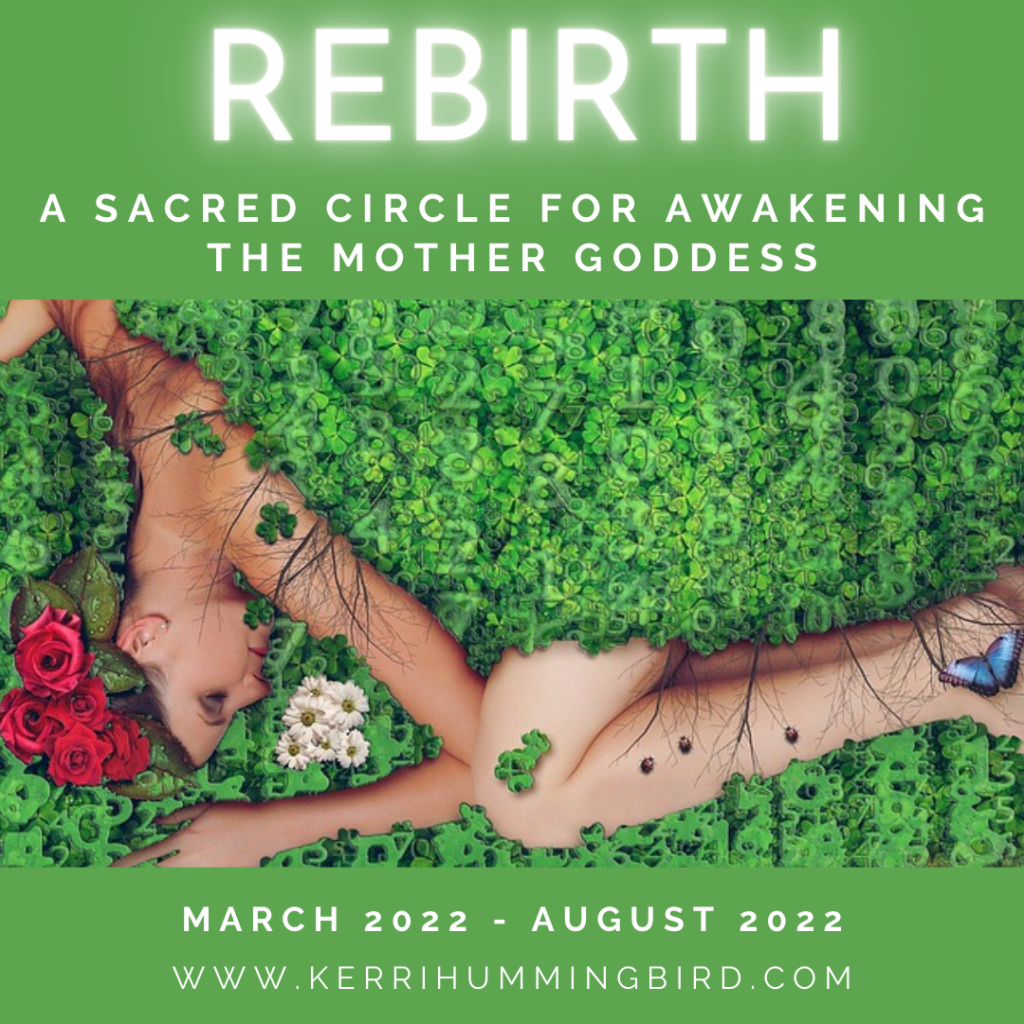 Our Mother Earth, the Divine Mother, is rebirthing herself through YOU as a mother, as a woman, as a sacred vessel for awakening the Mother Goddess.
For thousands of years She has quietly waited while humanity explored the essential question: What happens when we throw the Queen from her throne?
The results are pretty clear. Humanity is in pain and our world is on the brink of destruction. Our kids don't fit in with mainstream society. They cut themselves to feel something in the emptiness. They start abusing alcohol and drugs. They can't keep a job. They go to school and drop out. 
As mothers, it's painful for us to bear witness to the suffering of our children. We may feel powerless, or even blame ourselves. Why can't our children be happy? What did we do wrong?
To understand what's going on we must elevate our perspective to the bigger picture: human consciousness is in a period of rapid evolution. Our children are here to play a vital role.
We have birthed Unicorn children who will usher into being a whole New Earth that will be very different from the world we have now. (And for the mamas-to-be, you see what's coming and you want to be prepared to meet it with resiliency and love.)
To become the leaders they are meant to be, our children are passing through their Dark Night of the Soul early.  An initiation through a Ring of Fire meant to forge them as the makers of the new way.
They are undergoing intense training because they have big work to do, and the only way to be who they need to be is to walk every step and learn every lesson. We can't do it for them.
This is the hardest part for the Mama heart.
Yet, they are here to claim success on their own terms. It's not going to look how our culture currently defines success. Our Unicorn children are here to live purposeful, meaningful lives of their souls' sovereign choosing.
You are left confused,  wondering how you can help your Unicorn child.
At the same time, you might be healing your relationship with your elderly mother, or holding space for her while the world she knew is dying. While she clings to the old ways and your child smashes apart current paradigms, you feel like you're comforting and mentoring upstream and downstream at the same time.
Add your business  as a mentor for others, your service to your community, your relationship…and there is no space left for you.
With all of that, you end up feeling like you've abandoned your own needs in service to all others.
Where do you find space for YOU to receive support and replenish your reserves in the hot mess your life has become?
Right here. Welcome home to our Sacred Circle of mothers, mothers-to-be, and mothers-in-other-ways.
Yes…mothers-in-other ways and mamas-to-be are welcome to our community. We all do the work of mothering in unique ways. Let's come together and rise.
If this speaks to you, Kerri is a wonderful teacher and gifted healer. – Robin Fougnier Chacon
It's time to heal 7 generations forward and back
In REBIRTH Sacred Circle to Awaken the Mother Goddess, you will restore your connection to the Divine Mother with support of Kerri Hummingbird who offers guidance from her own embodiment of the Mother Goddess, as well as channels wisdom from the ascended master, White Buffalo Calf Woman.
White Buffalo Calf Woman teaches us about the power of Sacred Ceremony and honoring Mother Earth to replenish and rebuild ourselves, our families and our communities on a foundation of Love.
You will learn to hold the highest frequency of unwavering Love and reverence for the Sacred so that you uplift your family's potentials, and steer them through the muddy waters to claim the gold of their soul's curriculum.
Over the last thousands of years, mothers have been disempowered, shamed, belittled and abused. We have lost connection with the Divine Mother, and as a result our children have been formed in wombs of suffering. The state of the world today is a result of the Mother Wound.
Have you experienced any of these signs of the Mother Wound?
Watching your children struggle and being told to put them on drugs or send them to a mental hospital

Doubting your own mother's intuition about how to help yourself and your children

Distracting and numbing while also feeling something vital is missing inside

Feeling disrespected and like your wisdom is being dismissed

Ashamed or guilty for asking for what you really need

Twisted up in knots trying to keep the peace with a swelling tide of family drama



It's time to heal the Mother Wound, REBIRTH and Awaken the Mother Goddess within.
Kerri's work around the Mother Wound was truly impactful. I found myself healing aspects of myself that I never realized were the core reasons I've been stuck from calling all of me forward. But this healing work felt loving. It felt freeing and truly, I left this experience doing this work feeling free to finally unleash all of me into the world. I couldn't have done this without the guidance and nudging of Kerri and her pursuance of my heart to fully show up in the world. – M.M.
To heal the Mother Wound, we need to courageously break the sacred vow that each of us takes upon entering the human realms: the vow not to speak of the Mother Wound.
This sacred vow causes self-harm and internal turmoil because we are not able to express the truth of what we have received through our mothers, and the truth of how we feel about our children's struggles. When we cannot express our own truth, we become self-sabotaging.
Sweet Sister, if you are reading this, YOU are the one chosen by your ancestry to break the pattern for your family, REBIRTH and Awaken the Mother Goddess within. 
I went through this program and I'm extremely Grateful! Kerri's program helped me understand my lack of confidence, my tendency to lash out at others, and my deep seeded need for approval from the most judgmental people. Today I am working towards my dreams, I'm so much gentler with myself, and I've learned that failure isn't tragedy or proof of my worthlessness, it's part of learning and my Self Worth isn't dependent on my accomplishments or others perception of me. – Bonny Lowe
In our Sacred Circle, you will:
Learn the art of Sacred Ceremony to restore balance and harmony to your home.

Become a safe, spacious place for your children to speak honestly with you.

Feel safe to lean into difficult conversations, stand your ground, know your truth, and speak with love and compassion to yourself and others even when things get crunchy. 

Heal the pleaser within you so you can make powerful decisions from your womb wisdom. 

Make it safe for the escape artist within you so you can keep the people you love close. 

Relax and let go of control so you can feel peace and trust. 
Accept and love yourself as you are, and accept and love your Unicorn child through each phase of their soul's initiation (without meddling and muddying the waters).
I am so grateful to have Kerri as a friend and mentor. I've been blessed to study with amazing educators and thought leaders, during my 30 years in the healing arts. Healing the Mother Wound was one of the most transformative experiences of my life. She embodies fierce love with tremendous courage, joy, compassion, vulnerability and ancient wisdom. – Gina Treuter

We welcome you to REBIRTH Sacred Circle for Awakening the Mother Goddess that begins Sunday March 6, 2022 at 4pm CST (5pm ET/2pm PT).
REBIRTH Sacred Circle for Awakening the Mother Goddess includes an exploration of your personal Gene Keys and Venus Sequence.
The Venus Sequence leads you back through your childhood development so you can heal wounds in your mental, emotional, physical and spiritual bodies while understanding the bigger picture of your soul's curriculum for this life. It supports you in doing the inner healing that allows you to show up for your Unicorn child as a loving, supportive, grounded Mother Goddess.
The weekly sessions include an exploration of self-limiting patterns, revelations that create new perspectives, and shamanic healings that help you integrate new self-supporting beliefs and habits for building the life you desire. As you keep going in the Sacred Circle, you will also begin exploring your Unicorn child's soul curriculum and see the points where you can softly insert loving encouragement to help them move through the shadows with more grace.
This series meets weekly beginning Sunday March 6, 2022 and ending August 28, 2022. Each session includes channeled guidance from White Buffalo Calf Woman, revelations that flip the script, inner exploration, and shamanic healing. All registrants receive a signed copy of "Love Is Fierce: Healing the Mother Wound." All sessions are recorded and accessed through a secure private page available only to participants, and all participants agree to confidentiality of the information shared in sessions.
I wanted to say thank you times a million! This class has been life changing for me, my mom, my whole family. I will be following you and talking about you and taking classes from you for years to come.  – Whitney Taylor

REGISTER NOW for REBIRTH Sacred Circle for Awakening the Mother Goddess using the reciprocity links below. The specific dates of the upcoming Sacred Circle are listed below.
You can sign up for the Weekly Circle, or you can register for the Weekly Circle plus Mentoring which adds a group mentoring call for targeted personal help every other week on Wednesday evening at 7pm CST (8pm ET / 5pm PT) starting March 6. Both programs include the option for a periodic 30 minute private mentoring session to help you move through a challenge.
Weekly Circle – 6 payments of $444    or   upfront payment of $2200 ($464 savings!)
Weekly Circle Plus Mentoring – 6 payments of $688 or upfront payment of $3500 ($500 savings!)
* A few partial scholarships are available to economically-challenged mothers

What the world needs now is the fierce love and courageous truth of healed women and whole earth mamas. Together, we will REBIRTH, Awaken the Mother Goddess and restore balance between humanity and Mother Earth.
Want to join us?

P.S. If this program speaks to your heart, and you would prefer to do this work privately with individual mentoring, here is a link to book a Discovery Call: SCHEDULE HERE
Blessings to all mothers, and all humans. Blessings to the Divine Mother.
P.P.S. Read Chapters 1 & 2 from my new book, "Love Is Fierce: Healing the Mother Wound" at www.motherwoundbook.com. You'll also receive access to "The Return of Mother Wisdom: Mending the Sacred Hoop" Summit that shares wisdom from medicine women for the time we are entering.
Blessings to all mothers, and all humans. Blessings to the Divine Mother.
Dates for the Weekly Circle
Every Sunday the live Weekly Circle meets at 4pm CST from March through August with a few weeks off along the way.
(5pm ET / 4pm CST / 2pm PT / 5am Hong Kong / 8am Australia / 9am New Zealand)
Every other Wednesday night the Mentoring Group meets at 7pm CST from March through August with a few adjustments to the schedule that will be pre-announced.