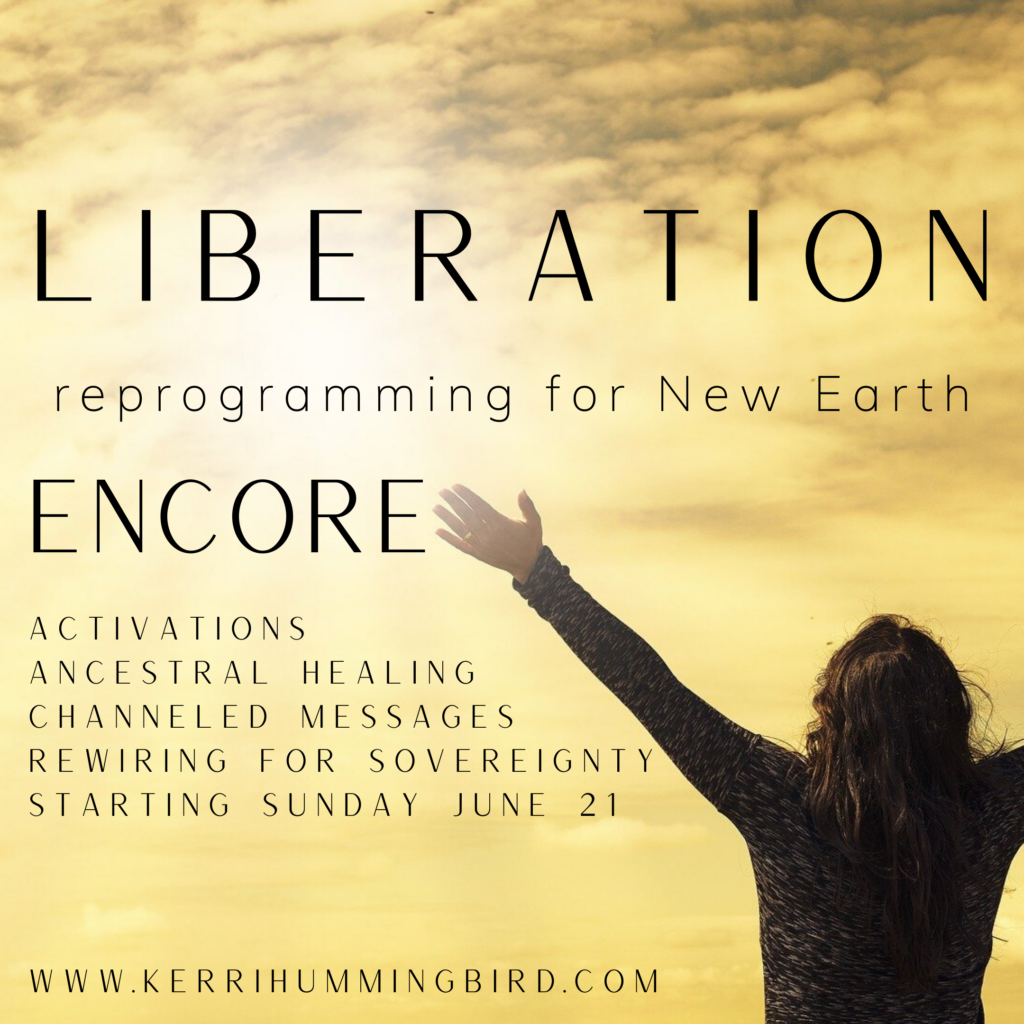 We are at a pivotal point in human history where we are invited to choose: make the changes necessary for humanity to survive on Mother Earth, or not and face extinction. This has been prophesied for centuries. To support us in making the necessary changes for survival, we are invited to become liberated from all the paradigms that have led us up to this current state of the world.
What is offered here is a rewiring that liberates us from our old consciousness so we can receive the activations and realizations that empower us to claim sovereignty. From sovereignty, we can co-create a new "normal" that supports all of life on Earth. To do this, we are invited to do "the work" to change our consciousness from the inside out.
In the LIBERATION ENCORE 8 week series, we will:
receive healings and activations to prepare our bodies and minds for New Earth
receive ancestral healing of our DNA to remove old codes
receive channeled guidance from ascended masters including White Eagle
allow our souls to rewire our vessels for sovereignty
The ENCORE series begins on Sunday June 21 at 2pm CST.  (Skipping over June 28, continuing July 5) World time zones are listed below.
Suggested Love Donation for the 8 Week Series:  $111
This is an angel number aligned with the manifestation of this series.


Having shared the significance of $111, this event is a pay-what-you-can reciprocity. Use these links to offer what you are able, or to donate extra to enable another person to participate.
PayPal: https://www.PayPal.Me/KerriHummingbird
Venmo: https://venmo.com/Kerri-Hummingbird-Sami
Receive Liberation and Liberation Encore
The first Liberation series heals these themes: fears that keep you from stepping into your purpose, alignment to truth, boundaries, distractions and where you place your focus, division and polarity, shifting identity from group to soul, liberation from history (familial, ancestral, karmic), and self-worth.
Receive both the Liberation and Liberation Encore Series: $222
This is an angel number aligned with manifestation, keeping in balance, and creating blessings on a huge and global scale.


Time zones:
Eastern Standard Time:  3pm Sunday
Central Standard Time:  2pm Sunday
Mountain Standard Time: 1pm Sunday
Pacific Time: 12pm  Sunday
Hawaii: 9am  Sunday
London: 8pm  Sunday
Paris: 9pm Sunday
Australia: 5am Monday
New Zealand: 8am Monday
Other locations, use this handy tool to look it up! https://www.timeanddate.com/worldclock/converter.html