For 12 weeks I'm offering free gifts to spread wisdom, love, and fun to everyone that is part of my mailing list! Join my list now and you'll receive those gifts too! You can also invite friends by forwarding the emails. When you forward an email to 5 friends you'll win a FREE set of inspirational greeting cards! There's also a grand prize for whomever invites the most people to the Gratitude Giveaway Game!
Blessings

Gratitude Giveaway Week 1: Prayer in a Full Moon Intention Bundle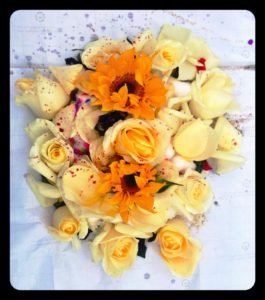 We have a powerful full moon on October 15 and it's a great time to set intentions with a prayer intention bundle! I learned about this prayer ceremony, or despacho, when I studied energy medicine with the Four Winds Society. The despacho is a practice from Peru, and it is a group healing ceremony. By blowing prayers into a kintu (3 leaves to represent the upper world, middle world, and lower world) you convey your heartfelt desires into the plant. When the despacho is burned on a sacred fire, all of the intentions are released to Spirit and things magically unfold in your life.
On my last journey to Peru this summer, we did despacho ceremony with the Q'ero shamans every day for 13 days. After a few days, you can start to feel disoriented as your life changes begin to unfold as a result of Spirit hearing your prayers. I am accustomed to this kind of profound transformation, the kind you can feel taking place in your very body. I made some friends in the beginner trip to Peru who were new to this kind of work, and I enjoyed talking with them over dinner and hearing their amazement and wonder at how powerful the healing medicine of a despacho can be.
So for this week, tell me your prayer and I'll add it to the prayer intention bundle, or despacho. It helps me to also have your name and a link to your picture online so that I can create a more powerful prayer for you.
If you find this form after October 15, no worries! I'll collect all the prayer requests I receive and place them into another despacho late next week.
[gravityform id="2″ title="true" description="true"]