Does the idea of walking across 1300 degree coals terrify you? Would you like to have an experience that forever reminds you that your fears are lies?
You are invited to a magical sacred evening of empowerment at a public firewalk, or to share this incredible awakening as a private event. If you want to bring your team or company to the next level of performance, you can plan a corporate firewalk and create memories to last a lifetime. You can make your retreat or conference the talk of the town by adding an evening firewalk empowerment workshop.
I love leading firewalks!
Next public firewalks are Friday March 15, 7-11pm and Saturday May 4, 6-10pm.
Let's talk about what you want to create!

---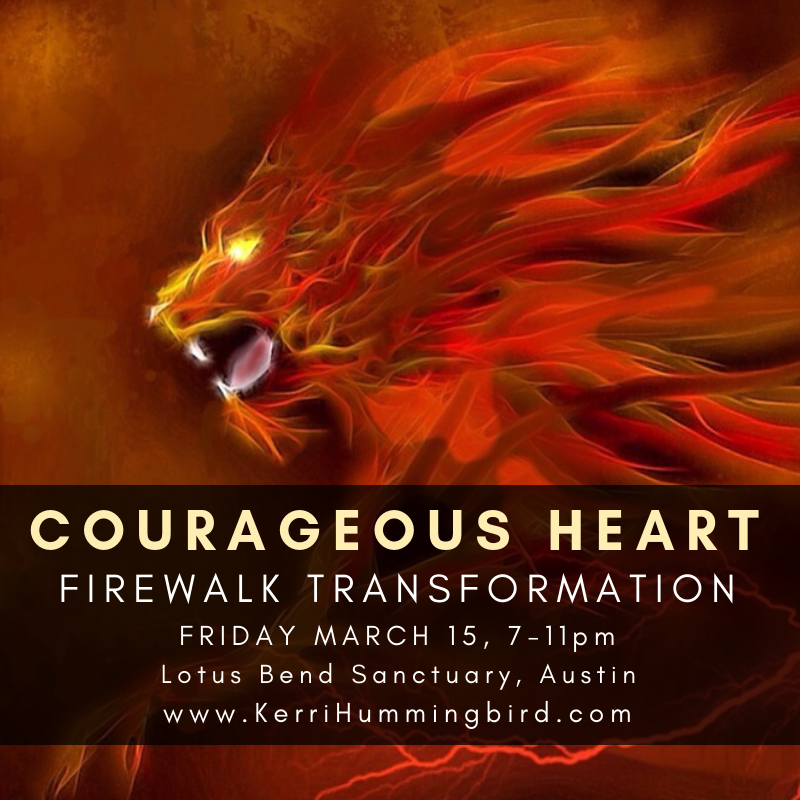 Courageous Heart Firewalk
Friday March 15, 7-11pm
at Lotus Bend Sanctuary, 2808 Robin Road, Manchaca
The invitation this evening is to feel your full body YES and fuel your passions in a powerful intention towards your desires and joy! The group healing energy and magic of the fire will clear away blockages as you dance across the embers. Expect to be transformed by this mystical experience.
You are at total choice as to whether or not you actually walk across the coals. Either way, you will be transformed as a participant in this magical evening.
You must RSVP in Advance
One person – $48  (rsvp for one)
Bring a friend – $80 (rsvp for two)
Final Spring Firewalk: Saturday May 4, 2019
Questions? Book a chat with Kerri
---
Firewalk Empowerment Workshop
The Firewalk Empowerment Workshop ignites your success by teaching you how to:
– Set clear intentions and goals
– Maintain your focus and avoid distractions
– Claim your personal power and the energy you need to overcome obstacles to success
– Clear false beliefs that steal your willpower and lead you astray
– Stay determined to succeed while aware of changing conditions
Perfect for entrepreneurs, executives, sales teams, and anyone whose success directly impacts quality of life.
The workshop culminates in an opportunity to walk barefoot across 1300 degree coals. Whether or not you walk across the fire, you will be forever changed in how you perceive life and its challenges. If you have attended Tony Robbins firewalks, you will be able to go deeper into new levels of understanding about the powerful ally of fire.
Kerri Hummingbird is a certified firewalk instructor by Sundoor International Firewalking School. She also brings over 20 years of experience as an entrepreneur and independent consultant to the workshop teachings.
Contact Kerri for a quote to conduct a Firewalk Empowerment Workshop for your company or organization TODAY!
Testimonials
"I was blessed to attend Kerri's first Warrior Goddess training that included a fire walk. I have always loved fire and consider myself a bit of a pyro my entire life. The firewalk is beyond powerful. Regressed trauma in my life has replicated itself in patterns. I was able to release a lot of pain and suffering when I attend this event. I have always been an independent, do everything by yourself kind of person. The energetic support of the Fire Tribe and Kerri as my spiritual mentor during the hardest period of my life helped me get out on top after doing all of the work. I have now opened my eyes to a spiritual realm, and the possibilities are endless. My mind shifted from desolation and disillusionment to a field of dreams where I am in the one in charge of my destiny. We are all the writers of our own story." — Kim Maleki
"Thank YOU!!! What an incredible, amazing, powerful experience. I continue to witness the magic and miracles ever since! I really appreciate all that you ARE and do. You truly are a Fire Fairy in this world that has so much to share–I bless you for this! I am telling everyone I know about my experience!!" — Jennifer Finegold
"What away to start 2016! My daughter and I bonded! We went to a Firewalk event and walked on 1300 degree hot coals. Thank you Kerri Hummingbird for taking us on this incredible journey it empowered both of us!! All things all possible but You must believe."
"I feel so blessed to have been able to Firewalk today. Talk about having no limits and no fears. To me, the outcome of stepping up was far greater than not doing so. It's amazing how I felt pulled to it, something inside me said go. We are so powerful! Our minds are immensely powerful in more ways than most even realize. Our thoughts and beliefs create our reality."
"I just walked on those coals and I'm not on my way to the ER!! Amazing experience and a hell of a way to start 2016."