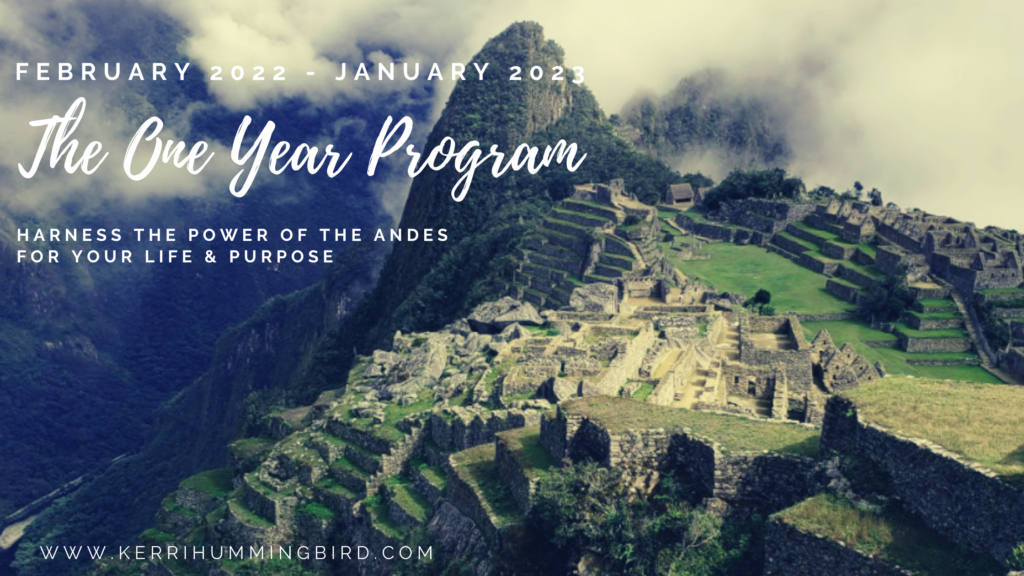 If profound realizations, mind-blowing insights, and reality-altering healing ceremonies fills you up with goosebumps, then I invite you to join the One Year Inner Medicine Program. You'll build a personal Mesa in the Incan tradition, learn the art of prayer ceremony for healing and manifestation, and go deep into your own shadows to reveal your gifts as you understand your soul's curriculum and purpose in this lifetime. You can even journey with us to Peru's Sacred Valley for an in-person life-changing week of transformation!
This will create magic in your life!
When you join this program, you're being initiated into a 4000 year old spiritual path the Incans laid through the Andes mountains. This is a path of mastery, and the masters before you assist you from beyond the veil when you walk through this sacred door.
You'll receive a Mesa and cultivate your own kuyas (medicine stones) wrapped up in handwoven tapestries (mestanas) that carry codes of the lineage to strengthen your path. Intricately woven into this program are teachings to help you grow a powerful relationship with the Four Directions, Mother Earth, Sun (Inti Taytay), Moon (Mama Killa), Elements (Earth, Water, Fire, Air), Animal Allies and Plant Allies. You'll learn how to work with the traditional mestana cloths and chumpi stones for spiritual insight and divination. You'll gain insight into how to bring your life into balance with Mother Earth and her cycles to enjoy grace and ease.
In the contemplative community of the One Year Program, you'll dive into your shadows to reveal your gifts and wisdom. Did you know that you can discover your soul's curriculum by contemplating your Gene Keys? In this program, your personal Gene Keys activate the kuyas in your Mesa to support your inner exploration, healing, and transformation.
You can participate from anywhere in the world!
The One Year Inner Medicine Program will be conducted over Zoom so you can participate from the comfort of your home, without interruptions from lockdowns and so forth that are still happening around the world. In our Zoom meeting, you will get a chance to connect with other members of the community in break-out rooms to compare experiences and receive support. All sessions are recorded so you can watch back the teachings for any sessions you miss (but you won't want to miss one minute of this profound co-creation!).
Immerse in magic in Peru's Sacred Valley!
You're invited to join us in Peru's Sacred Valley in June 2022 for a special week of mind-blowing, heart-opening, life-changing transformation. We'll work with Don Dante, our Incan Chakaruna, and Victor Ramos, our Q'ero wisdom keeper, to unblock and unleash! During this incredible week you'll visit many different Huacas (power centers) in the Sacred Valley to receive healing, activation of your destiny, and insights and revelations. We will also participate in a plant medicine ceremony for beautiful healing and heart expansion.
Those ready for intense spiritual growth can join us for 5 days after the Sacred Valley retreat to make a pilgrimage to Ausangatay, the Holy Mountain.
Weekly live trainings and Quarterly retreats
The One Year Inner Medicine Program includes weekly live trainings over Zoom on Saturdays from 10am to 11:30am CST beginning February 2021. Once a quarter we will have a longer live gathering over Zoom in the form of a virtual retreat for those who cannot travel, and an in-person retreat for those who can. This will also be Saturday from 10am to 1pm CST. This is an opportunity to go deeper into a practice, ceremony, wisdom teaching, or to receive an activation from our indigenous lineage wisdom keepers.
You'll also receive the online course Reinvent Yourself with hundreds of teachings, practices, and healing meditations as part of the One Year Inner Medicine Program (valued at $995). Content from this course will be covered during the One Year Inner Medicine Program and the rest is there for your self-study whenever you are called.
This is your Tribe!
You'll share such magic with the members of your tribe over the course of the One Year Inner Medicine Program, that you'll make friendships to last a lifetime. The adventures continue past the One Year Inner Medicine Program, and so you'll enjoy community for as long as you desire it. There's so much ancient wisdom to experience and explore that it's very true to say "We are just getting started!"
Take the leap!
The One Year Inner Medicine Program for 2021 is closed. The 2022 program will begin February 2022.