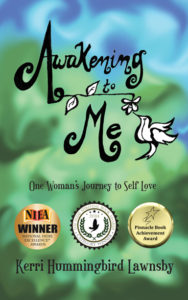 Category Winner (Memoirs) in the 2014 The Independent Spiritual Book Awards
Category Winner (Self Help) in the 2015 NABE Pinnacle Book Achievement Awards
Category Winner (Spirituality) in the 2015 National Indie Excellence Awards
Awakening To Me: One Woman's Journey To Self Love is a story of personal metamorphosis, written over the course of several years in real time as life unfolded and lessons were learned. It is a work of naked truth about Kerri Hummingbird Lawnsby's struggles with borderline personality disorder, recovering from divorce after a 20 year marriage, and seeking love from outside herself. The story documents how alternative healing methods (shamanic energy medicine and reiki) and mindfulness practices (Yoga and Toltec wisdom) led to an amazing transformation that arguably negates the former psychological diagnosis. Kerri shares her story so that others may witness that with dedication, faith, and a willingness to shine a light into the shadows, challenges can be overcome and lasting inner peace and self-love can be cultivated. Let Kerri's story and her heartfelt recommendations for self-help inspire you to begin your own journey of healing.
Available on Amazon.com and Smashwords.com.